In today's rapidly evolving business landscape, organizations are increasingly relying on robust business intelligence (BI) tools to make data-driven decisions and gain a competitive edge. Among these tools, IBM Cognos Analytics has established itself as a leading BI solution, empowering businesses to harness the power of data and extract strategic insights. In this comprehensive blog, we will delve into the features and capabilities of IBM Cognos Analytics across various versions, with a special focus on the newest release, IBM Cognos Analytics 12. Additionally, we will discuss how Cresco International, an AI consulting firm, can assist clients in maximizing the benefits of IBM Cognos Analytics 12.
1. IBM Cognos Analytics: A Foundation for Intelligent Business Insights
IBM Cognos Analytics is a comprehensive business intelligence and performance management platform that enables organizations to gather, analyze, and visualize data from diverse sources. It offers a wide range of powerful features and capabilities, irrespective of the version being used.
1.1. Data Exploration and Visualization
IBM Cognos Analytics provides intuitive tools for data exploration and visualization, empowering users to uncover meaningful insights quickly and efficiently. With a variety of chart types, drill-through capabilities, and advanced filtering options, users can navigate and analyze data from multiple perspectives, facilitating a comprehensive understanding of their business landscape. Furthermore, the platform offers interactive dashboards and reports that can be customized to meet specific business requirements. Users can create visually appealing and interactive visualizations, making it easier to identify patterns, trends, and outliers within the data. Such capabilities enable users to transform raw data into actionable insights and support data-driven decision-making processes.
1.2. Self-Service Analytics
A key strength of IBM Cognos Analytics lies in its self-service analytics capabilities, empowering business users with limited technical expertise to independently access and analyze data. The platform's intuitive interface allows users to build reports, perform ad-hoc analysis, and generate customized visualizations without heavy reliance on IT departments.  By democratizing data access and analysis, IBM Cognos Analytics fosters a culture of self-sufficiency and agility within organizations. Business users can explore data, ask ad-hoc questions, and gain insights in real-time, promoting faster decision-making and reducing the burden on IT resources.
IBM Cognos Analytics goes beyond basic reporting by providing advanced analytics capabilities. Users can leverage predictive analytics, data modeling, and statistical functions to uncover deeper insights and make data-driven predictions. By harnessing advanced algorithms and techniques, the platform enables organizations to gain a competitive advantage through proactive decision-making. For instance, users can create predictive models to forecast future trends, identify potential risks, and optimize business strategies. With the power of advanced analytics at their fingertips, organizations can make informed decisions that are grounded in data-driven insights.
1.4. Collaboration and Sharing
Effective collaboration is crucial for driving meaningful insights and aligning decision-making across the organization. IBM Cognos Analytics facilitates collaboration by allowing users to share reports, dashboards, and insights with colleagues. Users can add comments, annotations, and discussions directly within the platform, enabling knowledge sharing and fostering a data-driven culture. By encouraging collaboration, IBM Cognos Analytics breaks down information silos and promotes cross-functional decision-making. Teams can work together, share insights, and collectively contribute to driving organizational success.
1.5. Mobile Accessibility
In an increasingly mobile world, IBM Cognos Analytics recognizes the importance of providing seamless access to data and insights on multiple devices. The platform offers responsive design and mobile apps, allowing users to access and interact with reports and dashboards anytime, anywhere. This flexibility ensures that critical information is readily available, empowering users to make informed decisions even while on the go. The mobile accessibility feature of IBM Cognos Analytics caters to the needs of a mobile workforce and enables decision-making without geographical constraints. Whether in the office, on-site, or traveling, users can access real-time data and insights, facilitating timely and informed decision-making.
2. What's New in IBM Cognos Analytics 12?
The release of IBM Cognos Analytics 12 brings a host of exciting new features and capabilities, further enhancing its already robust functionality. Let's explore some of the key additions:
2.1. General Cognos Analytics 12 Enhancements
Cognos Analytics 12 brings a range of exciting enhancements, starting with a redesigned welcome page that emphasizes AI and self-service, providing users with a quicker and easier way to get started. Administrators now have the flexibility to add multiple folders to the content view, eliminating the previous limitation of only one extra tab. The search functionality has been improved with support for fuzzy search, enabling users to find results that closely match their query. Furthermore, embedded reports in Microsoft Teams have been enhanced, allowing users to log in with their IBM ID and access Cognos Analytics in a new browser window through a dedicated link. Lastly, report and dashboard authors can now leverage the Interactive Performance Assistant (IPA) to gather valuable performance statistics. These updates collectively enhance the user experience, streamline workflows, and empower users with more capabilities within Cognos Analytics 12.
2.2. Assistant Enhancements
Cognos Analytics 12 introduces several enhancements to the Assistant. The Assistant now offers improved design and usability, making self-service easier and more intuitive for end users. It can be accessed from the Home page, allowing users to open it from anywhere within the platform. Users can also select their data source directly from the Assistant, providing context for their queries. The Assistant now understands comparatives and additional filters, enabling users to ask more complex questions. It also displays narrative insights automatically when rendering charts or visualizations, with applied filters. Users can request narrative insights without a chart using specific commands. Additionally, a new share option allows users to share visualizations via email, Microsoft Teams, or Slack. In Cognos Analytics 12, users can create a simple visualization from the Assistant and build around it to create a dashboard. Furthermore, the Assistant can now be embedded on any webpage or web application using the Cognos URL in an iFrame.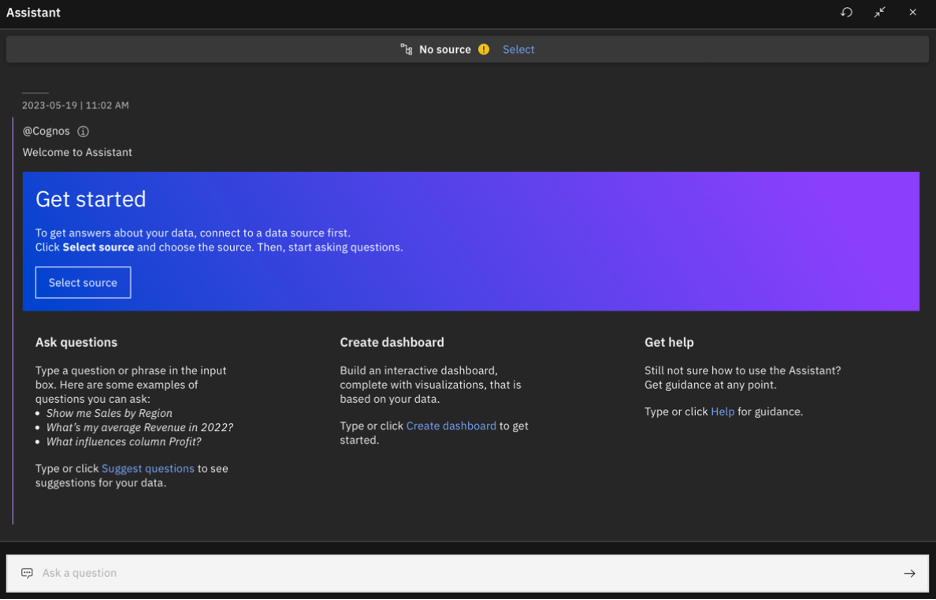 2.3. Increased Productivity with AI-driven Self-Service Analytics
One of the remarkable features of Cognos Analytics 12 is its AI-driven self-service analytics, which significantly enhances productivity. With this update, users can leverage the power of artificial intelligence to generate insights from their data effortlessly. Answers are not only displayed as charts but also as natural language generation (NLG) narrative insights. This means that even users who are new to the platform can easily understand and extract valuable information from their data. By providing both visual and narrative representations of insights, Cognos Analytics with Watson 12ensures that users can make the most informed decisions without the need for extensive data analysis expertise.
2.4. Enhanced Performance for Instantly Responsive Dashboards
In Cognos Analytics 12.0, performance optimization takes center stage, particularly when it comes to dashboards. With the introduction of new caching technology, the platform delivers instant feedback and responsiveness when users interact with dashboards. Traditionally, users had to wait for queries to run every time they filtered or interacted with the dashboard, leading to potential delays in data visualization and exploration. However, with the enhanced caching technology, the platform eliminates this waiting time and enables real-time updates and responsiveness. Users can now filter, drill down, or explore data on dashboards without any lag, allowing for a seamless and efficient analytics experience.
2.5. Build Dashboards Quickly with the New Guided UI
The new guided user interface (UI) in Cognos Analytics 12 offers a streamlined and intuitive way to build dashboards. Whether users want to create a dashboard using data from a spreadsheet they upload or utilize governed enterprise data, the guided UI provides a user-friendly experience. This means that users with various levels of technical expertise can leverage their data to create powerful dashboards quickly. The guided UI walks users through the process step-by-step, offering suggestions and recommendations along the way. By simplifying the dashboard creation process, Cognos Analytics 12 empowers users to unlock the potential of their data and present it in a visually compelling and meaningful manner.
2.6. Advancements in Reporting
Cognos Analytics 12 Introduces Default Parameter Definition, Enhanced Range Values for Date Control, and Streamlined Quick Links to Report Objects. The latest updates in reporting empower users with the ability to define default parameter values in reports, providing flexibility to specify static text, report expressions, or data items with associated queries. Furthermore, the range values for date controls have been enhanced, enabling users to leverage expressions for more precise filtering. Additionally, the introduction of quick links simplifies navigation and expedites access to specific report objects, significantly enhancing productivity and usability.
2.7. Enhanced Data Preparation
Data preparation is a critical step in the analytics process, and IBM Cognos Analytics 12 streamlines this workflow with improved data modeling and integration capabilities. The platform allows users to access and transform data from multiple sources, ensuring data quality and consistency for accurate analysis. With enhanced data preparation functionalities, users can spend less time on data cleansing and manipulation, and more time on deriving meaningful insights from their data.
3. How Cresco International Can Help with IBM Cognos Analytics 12
Cresco International, a leading technology consulting firm, specializes in helping organizations maximize the benefits of IBM Cognos Analytics 12. With their deep expertise and understanding of the platform, Cresco International offers a range of services to assist clients:
3.1. Implementation and Customization
Cresco International works closely with clients to understand their unique requirements and tailors IBM Cognos Analytics 12 to their specific needs. Their experienced consultants ensure a smooth implementation process, including data integration, customization, and configuration. By aligning the platform with the organization's specific goals and objectives, Cresco International helps clients derive maximum value from IBM Cognos Analytics 12.
3.2. Training and Support
To empower clients in effectively utilizing IBM Cognos Analytics 12, Cresco International provides comprehensive training programs for users at all levels. From basic reporting to advanced analytics, their training equips clients with the skills necessary to leverage the full potential of the platform. Furthermore, they offer ongoing support and maintenance services, ensuring clients' analytics environment remains optimized and addressing any issues that may arise.
3.3. Optimization and Performance Tuning
Cresco International conducts in-depth assessments of clients' IBM Cognos Analytics 12 deployments, identifying areas for optimization and performance enhancement. Through fine-tuning configurations, query optimization, and infrastructure scaling, they help clients achieve faster, more reliable analytics experiences. By optimizing the platform's performance, Cresco International ensures that users can access data and insights seamlessly, enabling timely decision-making.
3.4. Migration and Upgrades
For organizations planning to migrate to IBM Cognos Analytics 12 or seeking to upgrade from earlier versions, Cresco International offers seamless migration and upgrade services. Their experts handle the entire process, ensuring a smooth transition with minimal disruption to existing analytics workflows. With their expertise and proven methodologies, Cresco International helps clients leverage the latest capabilities and features of IBM Cognos Analytics 12, enabling them to stay at the forefront of data-driven insights.
Overall, Cognos Analytics 12 introduces significant enhancements that bring a range of benefits to users. The AI-driven self-service analytics feature boosts productivity by enabling users to easily interpret and gain insights from their data. The enhanced performance ensures instant responsiveness on dashboards, eliminating delays and enabling real-time exploration. Finally, the new guided UI simplifies the process of building dashboards, allowing users to harness their data effectively. With these improvements, Cognos Analytics 12 empowers organizations to make data-driven decisions efficiently and effectively.
By partnering with Cresco International, clients can unlock the full potential of IBM Cognos Analytics 12 From implementation and customization to training and ongoing support, Cresco International's expertise ensures clients can fully leverage the capabilities of the platform, driving data-driven success and achieving their business goals. Embark on your data journey with IBM Cognos Analytics 12 and Cresco International, and unlock the transformative power of intelligent business insights. With the right tools and expert guidance, organizations can harness the true potential of their data and drive success in an increasingly data-centric world.